Faculty Spotlight: Associate Professor David Smith
David Smith was working in the advertising industry when he started to feel burned out, especially with the administrative aspects of the business. "Working in advertising and design was my career, but after more than 25 years in the field I was looking for a change," he said. "Teaching offered me something different, but it was still very much centered on my expertise." Smith joined the faculty in Auburn's School of Industrial and Graphic Design (SIGD) in 2017 and was promoted to Associate Professor last fall.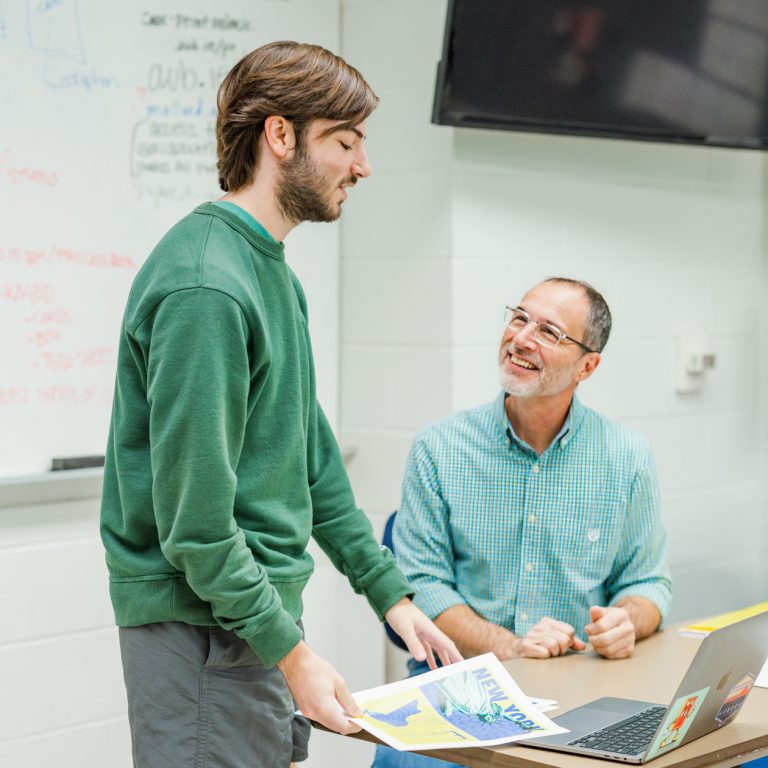 Smith earned a Bachelor of Fine Arts in graphic design from the Ringling College of Art and Design and went to work in the advertising industry, eventually establishing his own design consultancy. He worked on branding, corporate communications and advertising with clients in categories like banking, healthcare, technology and communications. While working full time, Smith started teaching as an adjunct faculty member at Jacksonville University in Florida and realized how much he enjoyed it. "I was fortunate to almost fall into the position at Jacksonville," he explained. "I had never aspired to be a teacher or had even considered it, but I found I really enjoyed working with students and the challenge of helping them find their way through design." He went on to earn a Master of Fine Arts in interdisciplinary arts from Goddard College and joined the Auburn faculty after seven years of teaching at Jacksonville.
---
---
Smith currently teaches Interactive Media, Intro to Graphic Design and Graphic Processes. He also teaches a design thinking course for non-majors and has led the Senior Project course, a capstone course in which all graphic design majors produce a cohesive body of work under the direction of faculty members. His favorite class is Graphic Processes, the last course pre-Graphic Design majors take before applying to the professional program. "It is one of the pivotal courses in the program, at least from my perspective," he stated. "In the Graphic Processes course, design theory turns into design practice and digital tools are introduced. It's truly amazing how much the students grow as designers in that course."
While some of his research focuses on UI/UX, Smith spends much of his time studying how graphic design can intersect with underserved populations. He is currently working with colleagues Gorham Bird of architecture and Junshan Liu of building science to design an exhibit at the Museum of Alabama that addresses the funding, design and preservation of Black schools built throughout the state during the Jim Crow era. The team also has plans to create a website documenting the history, status and alumni of those schools. Since his classes focus mainly on projects and problem solving, Smith shares his research interests with his students by creating assignments that ask them to conceive and design an app that could address an issue faced by an underserved population group.
While his 25 years in advertising were productive, Smith is happy to be teaching and glad to have found his way to SIGD. "I really enjoy the students here at Auburn. They are so dedicated and ready to learn, and that keeps alive my enthusiasm for graphic design, especially when a student surprises me with the creativity, complexity or maturity of their design."