Rising to the Challenge: BSCI Program Thrives Despite Pandemic
Instruction and learning at Auburn might look a little different this year due to COVID-19, but responding to the pandemic has resulted in a number of innovative pedagogical initiatives at the McWhorter School of Building Science.
In March 2020, at the beginning of the pandemic, Auburn University announced that instead of returning from spring break in person, students would be completing all remaining coursework for the semester remotely. Despite being technologically savvy, some building science students were anxious about the transition. Building science faculty reassured them that the plan to go virtual was not only doable but could also be beneficial. "During our first Zoom lecture, I spent some time addressing the positives of virtual learning (no parking issues, more time for study, more time for other hobbies) and spent time answering any questions they had specific to our class," said April Simons, assistant professor of building science. "This is a wonderful opportunity to walk alongside our students and help them work through challenges and maintain a positive outlook." One benefit of remote instruction was that faculty members recorded their lectures and made them available to students to review later. Students were able to review lectures and tutorials as often as needed and could complete work at their own pace.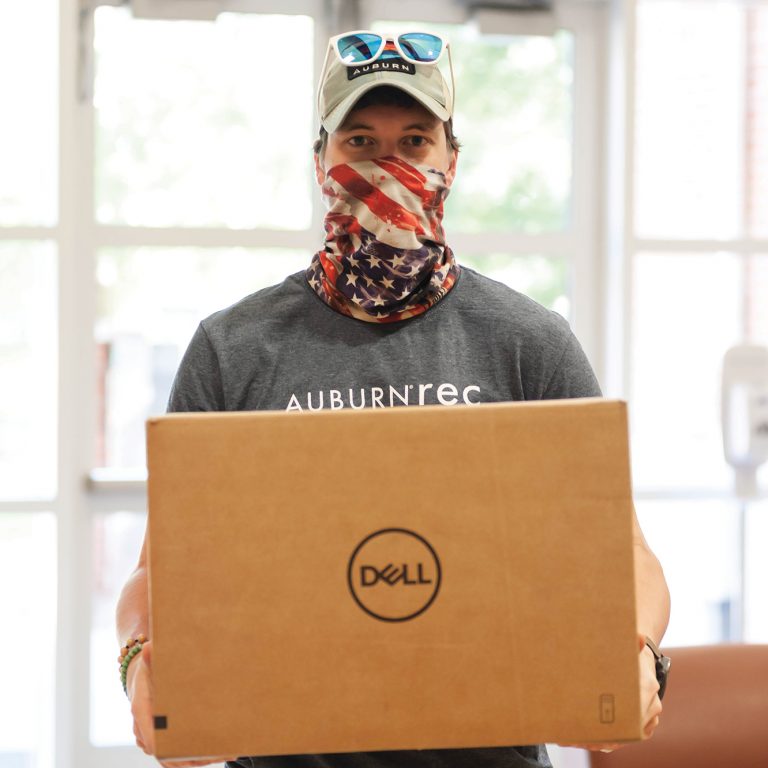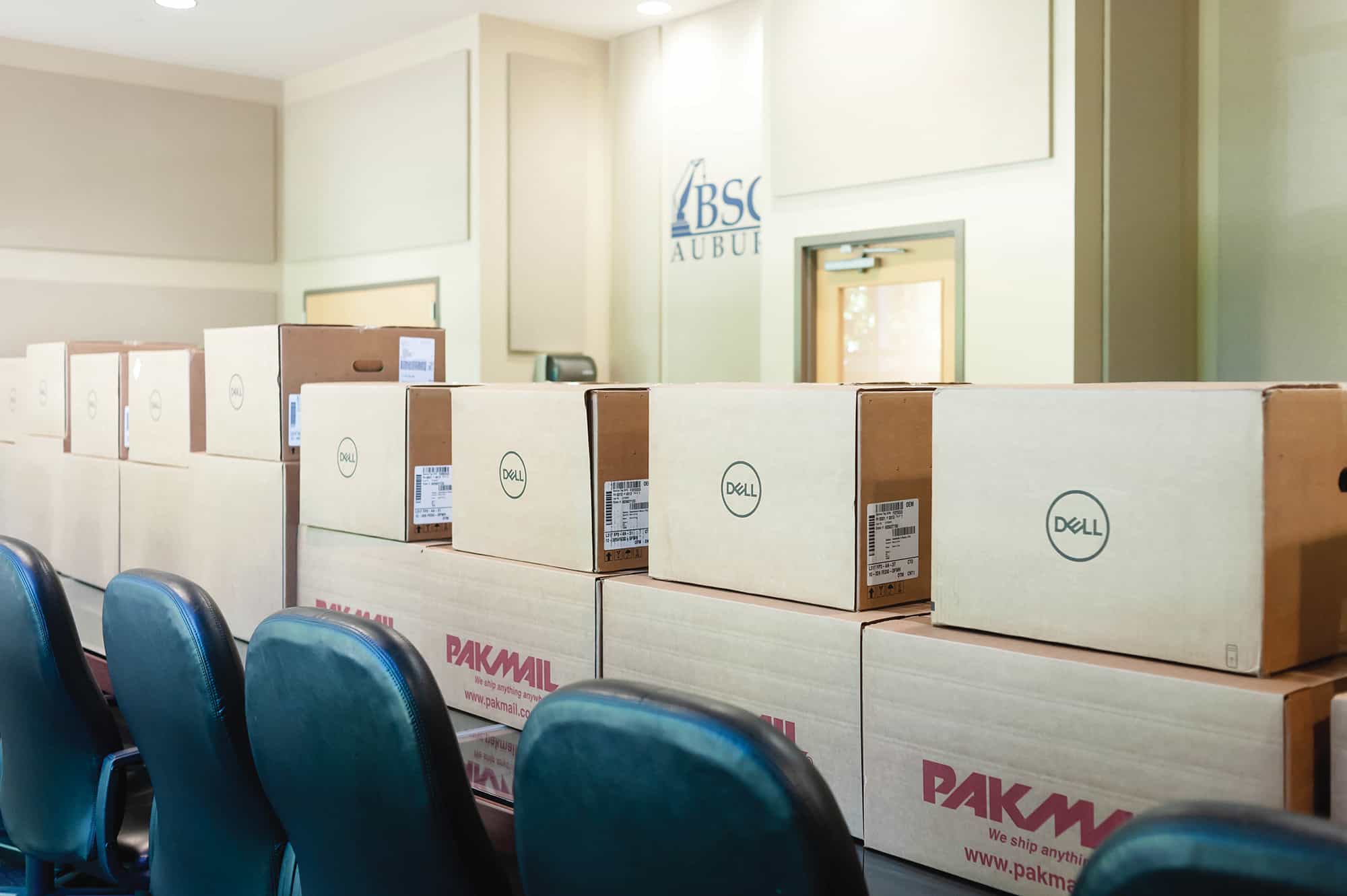 Students also had to adjust to remote learning during the summer 2020 semester. Many fourth-year building construction students had been completing co-operative learning experiences at construction sites all over the United States. When spring co-op experiences were cut short, these students were faced with the unexpected challenge of completing their final thesis remotely. BSCI faculty and staff realized that most students didn't have the sophisticated industry-relevant hardware or software they needed to do this, and they immediately devised a plan to loan students the necessary equipment from the thesis room in Gorrie Center.
Thirty-eight of the 46 thesis students chose to accept the offer of equipment, which included a desktop PC tower, two monitors, a keyboard and a mouse for each student. BSCI staff members Angie White, Brandon Clarke and David Royer boxed up the equipment and either shipped it directly to each student's home or facilitated on-campus pickup.
Some students were notified that their summer industry internships had been cancelled due to the pandemic. Fortunately, however, some companies decided to revamp their programs so that students could complete internships virtually. Longtime industry partner Juneau Construction restructured its program to create a six-week remote learning experience called VIP2020 (Virtual Internship Program). Student Anna LaRock said working with both a project engineer and a pre-construction manager at Juneau was an invaluable experience. She was assigned to review submittals, create site logistics plans and complete assignments in Procore as well as tasks that involved estimating, quantity takeoff and bid comparison. "I learned so much about having to be flexible in the construction industry," she said of interning during a pandemic. "Things are constantly changing, and you have to be ready to meet those changes with a solution."
Nancy Juneau, CEO of Juneau Construction, said the new internship program was a success. "VIP2020 100% exceeded our expectations," she stated. "And I think we have set the bar high for our company and our internship program moving forward."
Auburn University began the fall semester by offering four different modalities of classes, including remote courses and traditional face-to-face classes. In blended classes, smaller groups of students met with faculty in person and completed some coursework work online. In HyFlex classes, students had the option to go to class in person, attend class live via Zoom or to review video lectures later on their own time. All of these options gave students control over the type of learning styles that work best for them during the pandemic.
While freshman and sophomores adjusted to new learning modalities, juniors and seniors were concerned about what would happen after graduation. Fortunately, BSCI's Career Services has worked hard to create opportunities for students to obtain full-time positions and internships in a safe way. Former Career Services Specialist Lindsey Motley explained that instead of conducting information sessions in person, she recorded and posted half-hour video chats with industry representatives who discussed their companies' cultures and available positions.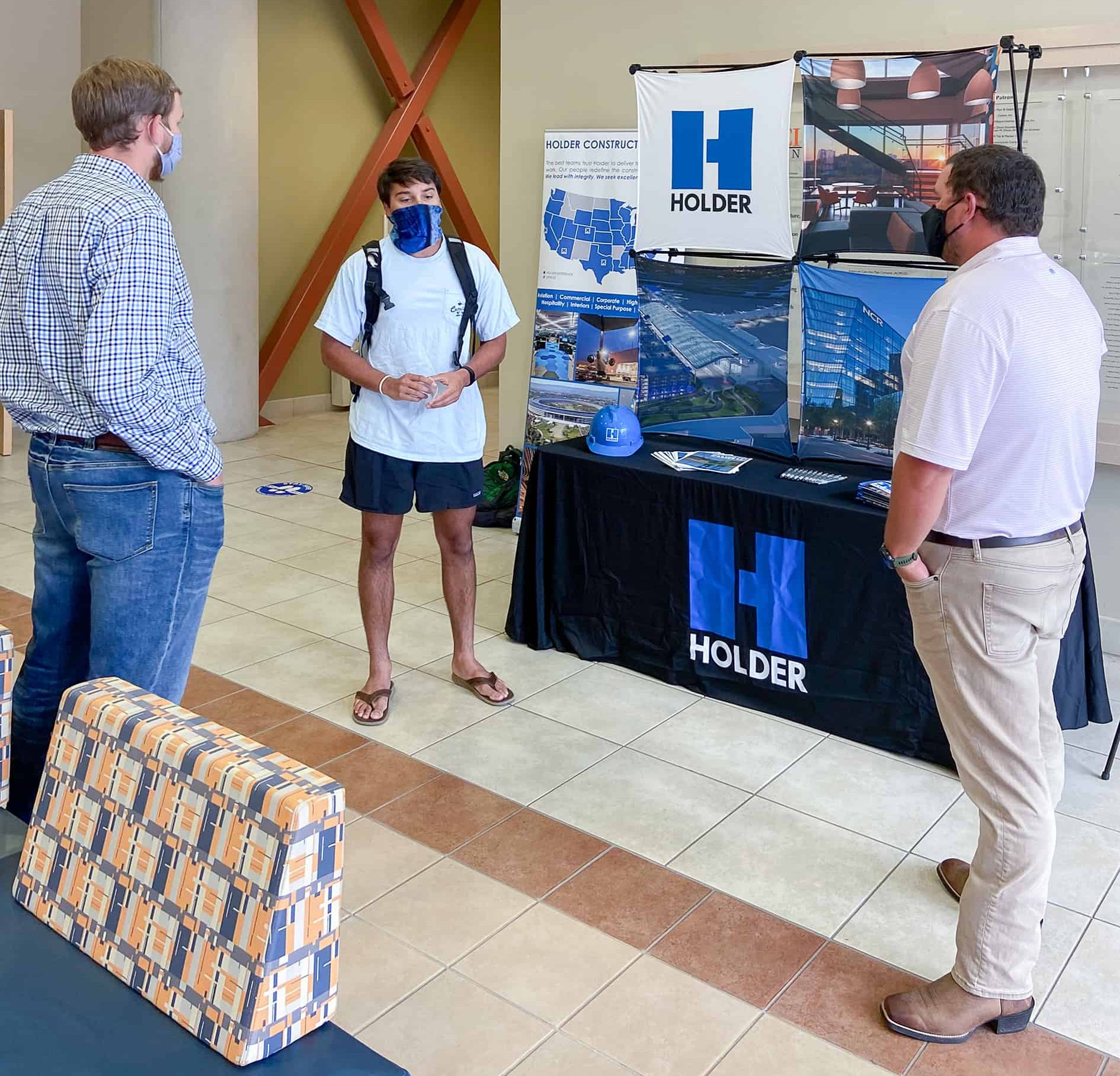 The traditional Meet and Greet sessions, where students engage with company representatives on campus, are now done across a conference room table or in the Gorrie lobby to allow for proper social distancing. And last fall's virtual career fair was like no other career fair before it. Using the Career Fair Plus online platform, students were able to browse companies on the platform, upload their résumés for employers and then build a schedule of live video interviews in 10-minute time slots.
Despite the disruptions to normal daily life, Motley says the construction industry has not slowed down. An impressive 98% of May building science graduates had jobs lined up before graduation, as did 96% of August grads. While students are continuing to navigate classes, interviews and job offers virtually, Auburn building science grads are still finding good jobs.