Office of Inclusion and Diversity Sponsors Women's History Month Events
Auburn's Office of Inclusion and Diversity (OID), which aims to promote diversity, equity, inclusion and social identity-focused programs on campus, is sponsoring several exciting events to celebrate Women's History Month.
Women's History Month is a celebration of women's contributions to history, culture and society and has been observed annually in the month of March in the United States since 1987. The observance grew out of a weeklong celebration organized by the school district of Sonoma, California, in 1978. The national theme for 2023 is "Celebrating Women Who Tell Our Stories." There are university events planned throughout the month in which students, faculty and staff will have the opportunity to hear from Auburn women as they share their journeys on their paths to success. Women's History Month coincides with International Women's Day, a global holiday recognized each year on March 8.
March also serves as Gender Equality Month to recognize the efforts of those who continue to carry forward the mission of ensuring equal access to the same opportunities.
OID will kick off the month with the Window to the World Lunch Seminar on Wednesday, March 1, at 11:00 a.m. in Room 2222/2223 of the Melton Student Center. This event is hosted by the International Cultural Center and is open to all Auburn students, faculty and staff.
Women's History Month Dine & Discuss will aim to facilitate open conversation and will take place Thursday, March 2, at 5:00 p.m. at the Auburn Alumni Center.
On Wednesday, March 15, Wamika Kemp, owner of Hair Over Everything, will lead hair seminar What's My Type? in Room 2310 of the Melton Student Center. The seminar will take place from 5:00 to 7:00 p.m.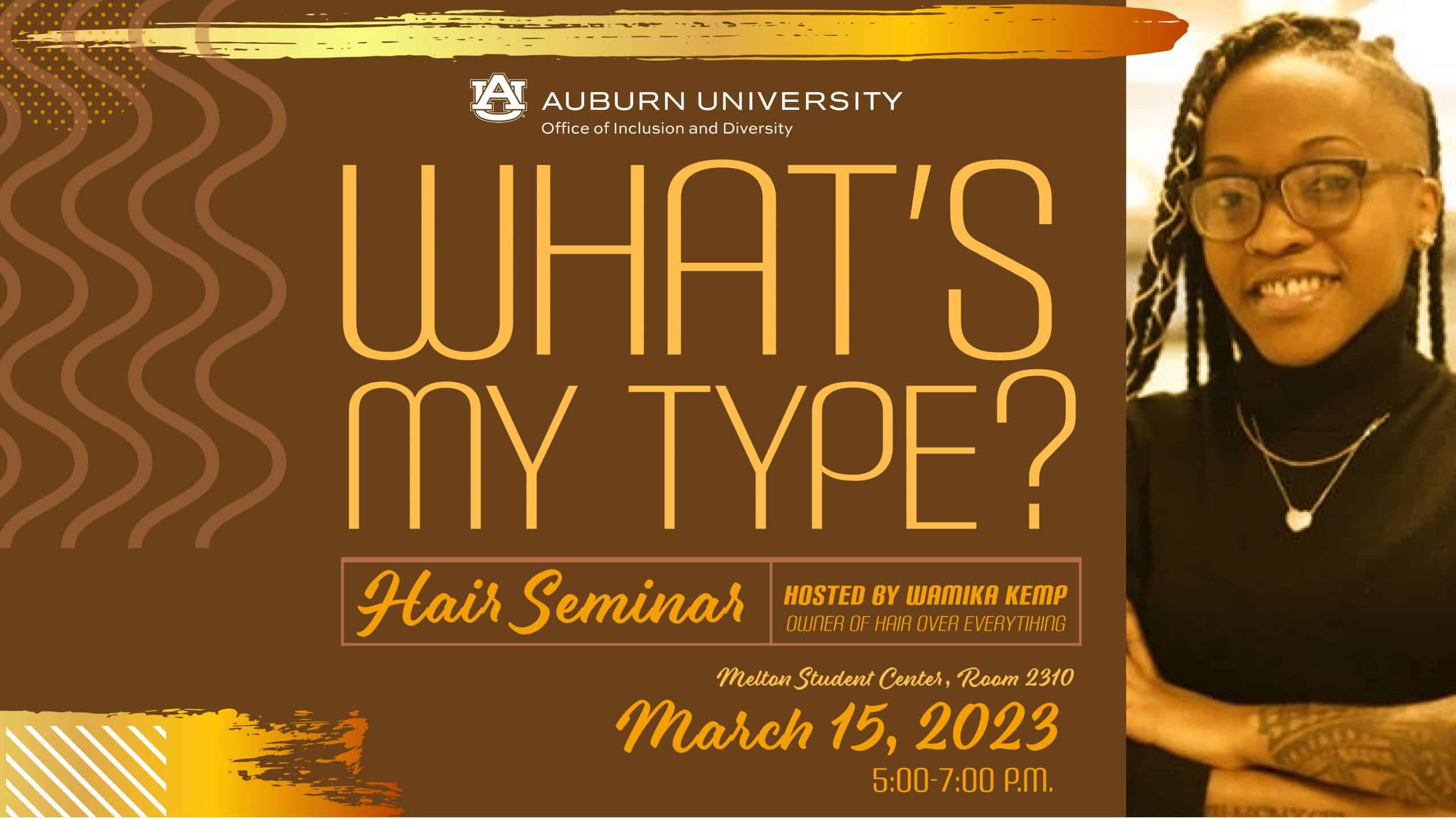 OID and the Auburn Alumni Center will jointly host the 2023 Women's Summit InventHER event on Friday, March 17 at the Auburn Hotel and Conference Center. Stacy Brown '00, founder of Chicken Salad Chick, will deliver a keynote address. Those interested can RSVP at alumni.auburn.edu/womens-initiatives.
OID's final event of the month is the 2023 Women's Leadership Conference on Friday, March 24, from 9:00 a.m. to 2:00 p.m. in the Melton Student Center Ballroom. This event will feature keynote speaker Ruthie Bolton '89, two-time Olympic Gold Medalist. RSVP at aub.ie/WLC2023.