NOMAS Places Second in National Student Design Competition
The Auburn University chapter of the National Organization of Minority Architecture Students (NOMAS) has earned second place in the 2023 Barbara G. Laurie Student Design Competition, hosted by the National Organization of Minority Architects (NOMA) as part of the 2023 NOMA conference.
There are more than 110 student chapters within NOMA, alongside a network of over 40 professional chapters. NOMA provides mentorship, scholarships and job opportunities to both student and professional members to ensure successful transitions into the architecture profession. Since its founding over 50 years ago, NOMA has become a haven for architects who seek inclusion in the design industry, and the organization continues to advocate for the licensure of architects from underrepresented backgrounds.
This year's NOMA conference was held in Portland, Oregon, and the theme, "Building Bridges Towards Just and Joyful Futures," was inspired by the 12 bridges in Portland that connect the city's east and west sides. One highlight of the annual NOMA conference for students and professionals alike is the Barbara G. Laurie Student Design Competition, which draws submissions from NOMAS chapters across the country. With the exception of a brief hiatus during the pandemic, students from Auburn's NOMAS chapter have participated in the competition since 2011.
This year's competition challenged students to design a concept for the Williams & Russell Project, a restorative justice project that addresses systemic injustices against Portland's Black community on land condemned by the City of Portland in the early 1970s for a hospital expansion. The project aims to honor Portland's Black community, create wealth and promote good health. The students' proposals included a cohesive site with mixed-income housing, commercial/retail tenants and community spaces.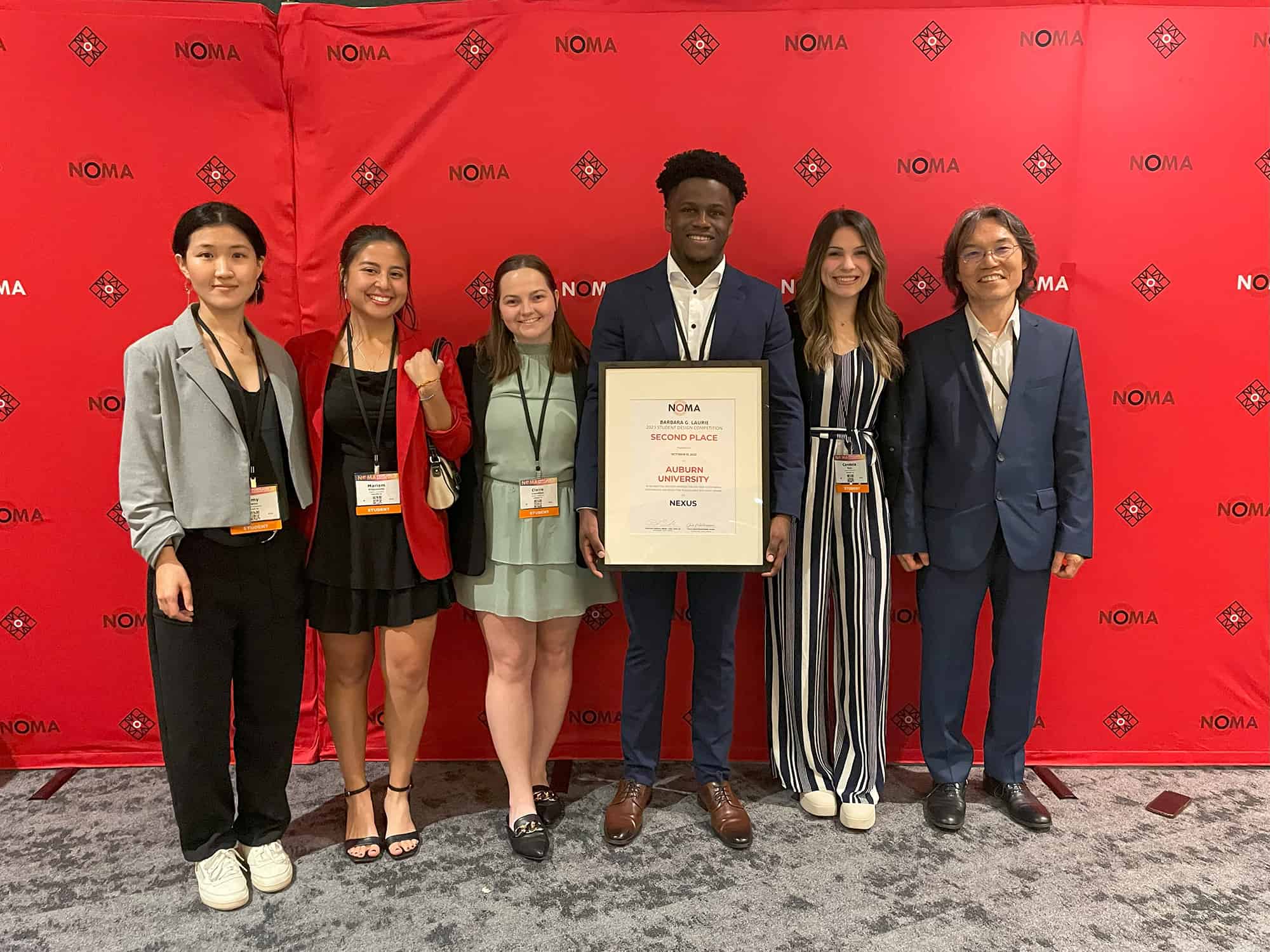 This year's team was comprised of architecture and environmental design students and was advised by Associate Professor Kevin Moore and Visiting Assistant Professor Sang Dae Lee. Fifth-year architecture student and NOMAS chapter president Leonard Jefferson attended the conference and competition alongside his peers and faculty advisors.
---
---
"It was an honor to represent Auburn at this year's Barbara G. Laurie Student Design Competition. Our team is grateful for both the recognition and the opportunity," shared Jefferson.
The team members proposed a unique architectural concept known as "Nexus" that reimagines the community of Albina, a collection of neighborhoods north of Portland.
"We sought to renew a sense of warmth and family by crafting an interwoven village of activity," said Jefferson. "The porous plan integrates with existing and future amenities around the site, and the free-flowing interior corridor becomes a canvas for community integration and festive gatherings."
Their concept includes space for a music store, farmers market, recording studio and local artist exhibitions, as well as affordable rental units designed to be adaptable and customizable to meet the unique needs of each resident.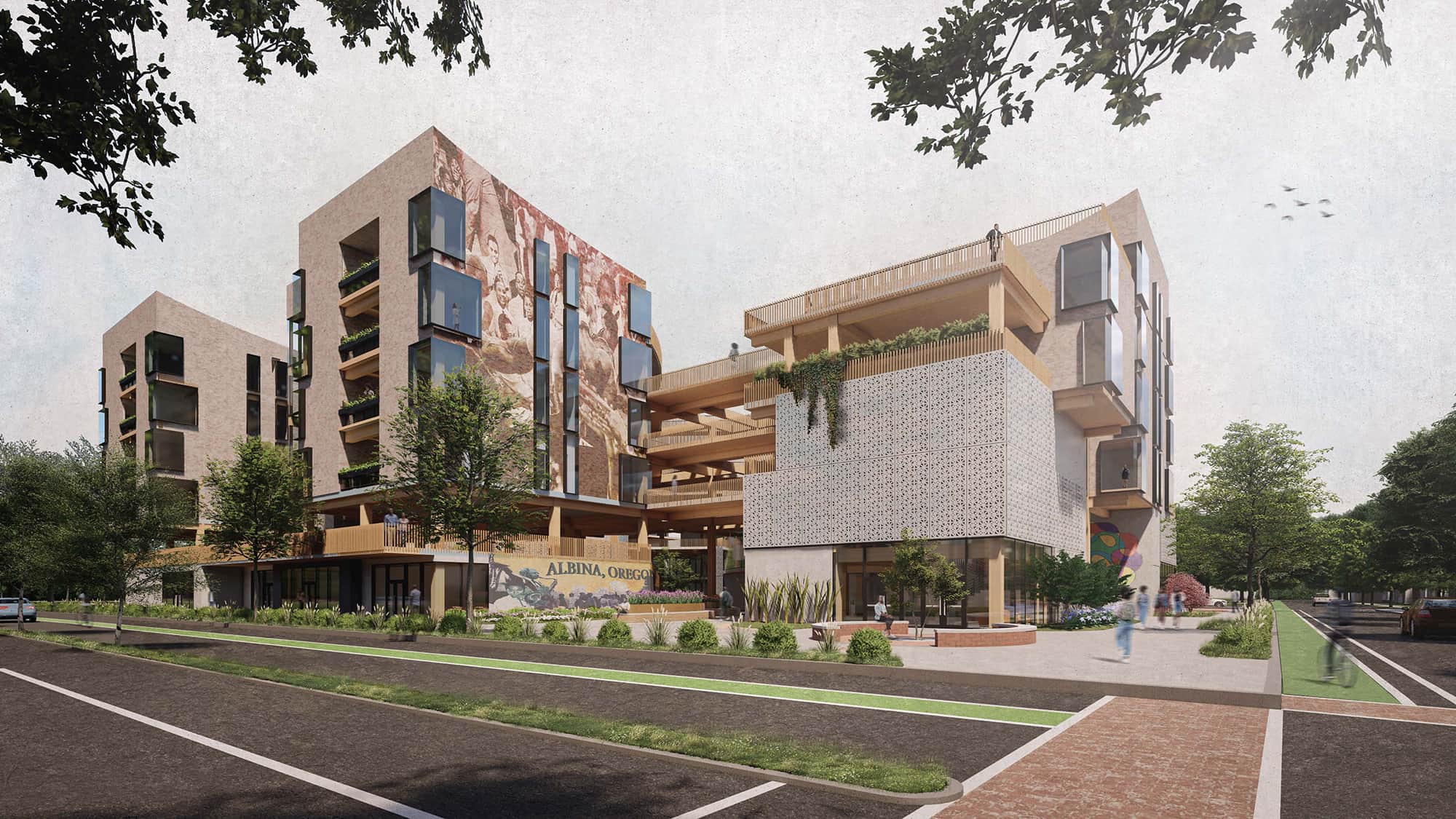 "Open terraces on each floor implement interactive programs such as playgrounds, dog parks and garden spaces," Jefferson stated. "These elevated pedestrian streets become each resident's front porch, facilitating continuous visual connections and countless interactions between neighbors."
Auburn's chapter of NOMAS invested months of preparation ahead of the national competition. Out of 39 submissions, eight entries were selected as first-round finalists and only three made it to the second round, where Auburn was awarded second place overall.
For Prof. Lee, the learning experience for the students involved more than solving the design problem. "I wanted the team to experience architecture as teamwork in its true essence, exploring how synergy can propel us forward together," Lee said. "The process was as valuable as receiving recognition; it offered a genuine challenge and a precious opportunity to contribute to the neighborhood, restore a piece of the historic African American Commercial district in Portland and shape a vision for the future of the Albina community."
Jefferson attributes the team's success to the diverse talents of the chapter and the faculty support they received. "The best part of the experience was the collaboration with my peers," he stated. "The moments we shared together and the support we had for each other will make this an unforgettable highlight of my Auburn career."
---
The Auburn NOMAS team members, including those from Spring and Fall, are as follows:
5th Year: All Architecture majors
Leonard Jefferson (Team Leader)  ·  Candela Bajo  · Chloe Buckner  ·  Claire Couvillion  ·  Laura Forrest  ·  Sarah Recht  ·  Adrian Smith  ·  Mariam Villamonte  · Conner Warren
 4th Year: All Architecture majors
Laura Chavez  ·  Amy Kwon  ·  Tyler Layton
3rd Year: All Architecture majors
Brysen Calvin  ·  Shanna Fortier  ·  Denae Inniss  ·  Yesenia Serrano  ·  Linh Thach  · Garner Tibbitts
2nd Year:
Haeseul Cho (Architecture major)  ·  Christina Pham (Environmental Design major)
---