Building Block: Lloyd Caldwell '69
Lloyd Caldwell took on the nation's toughest infrastructure challenges as a member of the U.S. Army Corps of Engineers. With the McWhorter School of Building Science's help, he's preparing them for more.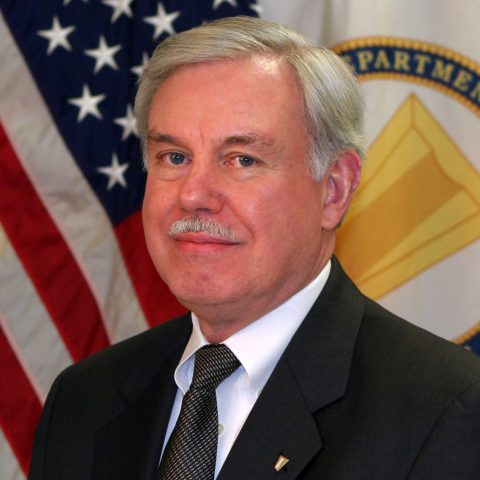 Lloyd Caldwell knew he wanted to be in construction, but found more than a career at Auburn University's McWhorter School of Building Science—he found a calling that enabled him to serve his nation through the U.S. Army Corps of Engineers (USACE) for the next 50 years.
An engineer formation of the U.S. Army, the USACE focuses on military and civilian construction projects dating to the Revolutionary War. Caldwell retired in 2020 as director of military programs, overseeing USACE's worldwide program for engineering, construction, real estate, and environmental activities in support of the Army, Air Force, Department of Defense, Federal Agencies and foreign nations.
The recipient of numerous awards during his long career, he recently became an advocate for the continuous professional development of USACE people to deliver the missions assigned to them. That brought him back to Auburn.
"I'm a great fan of Auburn, naturally, as an alum," said Caldwell, "but I also have tremendous respect for the McWhorter School of Building Science because I understand firsthand the value of the great education they have provided, not only to me, but to many others in my professional field."
In 2019, Caldwell was a key figure in formalizing the professional development program between the USACE and Auburn that began in 2009.
"I became aware of the good reports of the training and the high number of people that were attending," said Caldwell. "As a large organization, the Corps sends people to many universities for advanced training and degrees, but in this instance, Auburn had worked proactively with the Corps to set up a program that would meet the special conditions of Corps employees who had other professional commitments as well."
Modeled after Auburn's Executive MBA program, the partnership is geared toward construction management professionals, contracting officers and contract specialists involved in the acquisition and administration of construction contracts.
"Auburn had provided training and education in construction management to Corps employees for several years," said Caldwell. "That relationship had been a grassroots development by the Corps' district office in Savannah, primarily by Alan Bugg '83, who is now retired from the Corps."
Though both served in the Corps, Bugg only met Caldwell two years ago at the 10-year celebration of the school's Executive Certificate Program in Building Construction where Dean Vini Nathan, Richard Burt, Bugg and Caldwell discussed the possibility of a wider agreement between Auburn and the Corps.
A memorandum of understanding was created recognizing the USACE-Auburn partnership "in professional development and education, to support the Nation and to continue advancing the skill, integrity, and professionalism of those who build and sustain our Nation's infrastructure."
Prior to retirement, Caldwell was the senior civilian responsible for all the major engineering and construction for the Department of Defense and other federal agencies. As a member of the Army's Senior Executive Service, he was the equivalent of a two-star general, providing guidance for the Corps' largely civilian cadre of professionals.
Though it's difficult to choose only one highlight from a 50-year career, one of the most pressing challenges Caldwell brought his expertise to came when the COVID-19 pandemic hit.
New York Gov. Andrew Cuomo estimated the state would need 140,000 hospital beds to care for the incoming wave of COVID-19 patients, but only had 53,000 beds available in normal circumstances. Cuomo ordered hospitals to increase capacity by 50%, but that still left a shortfall. That's when he called on the USACE for help.
"We had a lot of literature about how to handle mass trauma to the population, but there was not much on how to handle infectious diseases," Caldwell said.
But Caldwell and the USACE focused on the idea of taking existing facilities like hotels, gymnasiums and conference centers and rapidly converting them to field hospitals.
"The most significant aspect of that," Caldwell said, "was that we established the technical standards and criteria and published them. You could give them to any community so they can know how to go to a hotel or to a gymnasium and create additional facilities."
Though half a century separates Caldwell from Auburn's campus, he's never forgotten the principles of the construction field he learned there, and what those principles meant for all the participants in that business—whether contractors, owners, or designers—to work together to create and deliver quality projects.
"Auburn set me up for success in ways that I have come to appreciate more in time," Caldwell said. "I hope that the Corps can provide a professional benefit to Auburn as well by the partnership association, and that together they continue to advance the professional development of the entire design and construction industry."