Auburn Faculty Recognized by American Society of Landscape Architects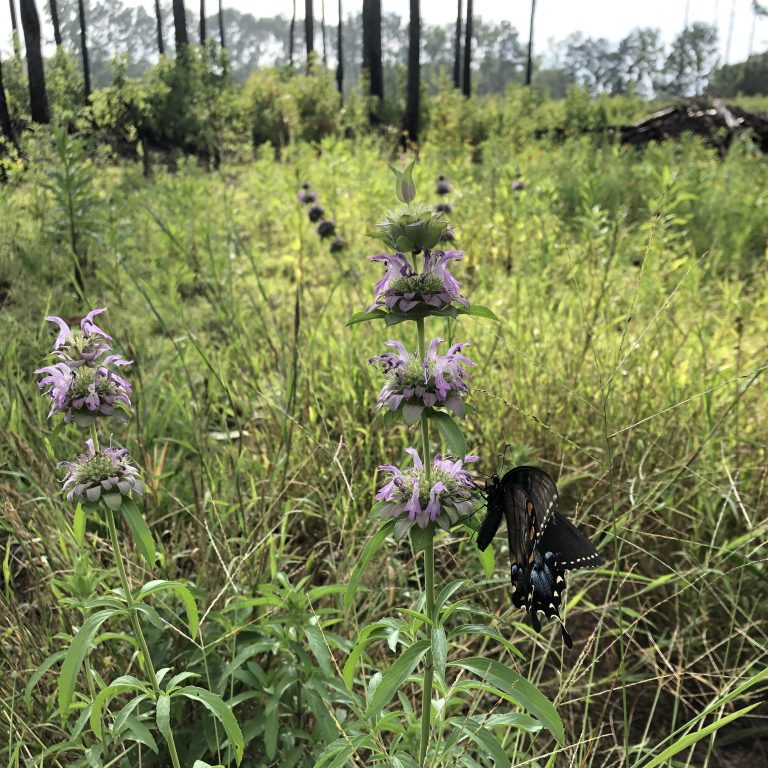 Two Auburn Landscape Architecture faculty members recently received an Honor Award from the American Society of Landscape Architects (ASLA) for their research project "Alabama Meadows." Associate Professor and Graduate Program Chair David Hill and Assistant Professor Emily Knox were named winners of ASLA's 2022 Professional Awards in the category of research.
Hill and Knox use grounded theory, a qualitative method that allows researchers to discover new theories based on the collection and analysis of real world data, to guide the installation and maintenance of five meadow test plots at Auburn's Mary Olive Thomas Demonstration Forest. Each of the five test plots, which are 150 feet in diameter, has a particular soil condition, hydrological flow, wind exposure and orientation to the sun. The researchers have carefully observed and recorded results as they weeded, seeded, transplanted, mowed and burned each plot.
This research aims to rebuild knowledge about the Southeastern meadow landscape, which is critical for ecological diversity. These meadows and grasslands were once extensive across the South but have widely been converted into commercial forests and residential developments. The goal of Alabama Meadows is to show that reintroducing meadows and grasslands to the American Southeast can provide ecological and cultural value to the region. Hill and Knox, along with their graduate research assistants, have worked to build experience in recreating these landscapes in an attempt to increase biodiversity.
The reintroduction of grasslands and meadows in the South has been slow, so this ongoing project aims to test and determine how to appropriately install and maintain these landscapes. The jury of ASLA's Professional Awards noted the project's careful research and extensive images in its comments on the project. "The meadows initiative aims to recreate long-lost habitat, increase biodiversity and offer a counterexample to the traditional manicured landscape aesthetic of the South," the jury stated.
Knox and Hill say they are grateful for the support of the graduate research assistants who have helped with Alabama Meadows over the years, including Hannah Keltner, Lily Dendy, Paulina Arango, Pilar Zuluaga, Juan Aristizabal and Maggie Brand. "This project was fully supported by a small CADC Seed Grant of just $5,000 dollars," Knox stated. "But between the two of us and a small army of graduate research assistants, we've logged several hundred hours of manual labor in the meadows over the last four years. It's wonderful that a project that relies much more on an investment of time than money was able to reach the highest level of recognition in the field."