Design and Construction Discovery Camp Introduces Youth to CADC Majors
This past week, the College of Architecture, Design and Construction (CADC) hosted its first Design and Construction Discovery Camp, a new summer camp for high school students offered through Auburn Youth Programs, an initiative of Auburn's Office of Continuing and Professional Education. This week-long scholarship camp introduced campers to all six areas of study in the CADC.
At Design and Construction Discovery Camp, rising high school juniors and seniors were taught by faculty members from all six of CADC's undergraduate majors, which include architecture, landscape architecture, environmental design, industrial design, graphic design and building science. Students lived and dined on campus, experiencing life as college students for a week. The camp was led by Katherine Buck Chastain, CADC's Administrator of Student Recruitment, with help from Assistant Camp Director QuenDesmond Kellum.
Each day of the camp focused on one of the three schools in the CADC, and faculty members taught lessons and assigned projects that helped to reinforce the students' learning. After an orientation day on Tuesday, Wednesday's activities introduced students to majors in the School of Architecture, Planning and Landscape Architecture (APLA). Environmental Design faculty member Kelly Homan taught students to use basic drawing techniques and the idea of abstraction to generate patterns. They were assigned a single word to express abstractly through linework and shading. Landscape Architecture faculty member Frank Hu assigned campers to work in small groups and asked them to design and construct an imagined landscape that integrated landform, planting and people. Each group used a randomly selected bench shape as a starting point and included it in their proposed landscapes along with a combination of foil, plaster bandages, model trees and 3D printed scale figures. The campers then presented their proposed landscapes and completed a review with Raleigh Price of Seay Seay & Litchfield Architects, the sponsor of APLA's day at camp. Architecture faculty members Debbie Ku and Jennifer Pindyck taught campers that the core of architecture and interior architecture is understanding how to define, organize and relate space. They taught the principles of perspective drawing and collage and then had students use those skills to imagine a space derived from the narrative and illustrations of children's books.
---
---
On Thursday, camp activities focused on studies within the McWhorter School of Building Science (BSCI). This day was sponsored by Holder Construction, and several Holder employees joined the campers for lunch to discuss the role of construction managers in the field. BSCI faculty member Lauren Redden directed a simulated project bid for the renovation of a large ballroom. Each team was tasked with calculating and estimating the quantity of various finish materials by measuring from a scaled model of the room, including area and perimeter calculations. The teams then incorporated subcontractor pricing by "drawing a straw" of quoted unit prices for each of the finish materials quantified. The teams ultimately had to determine how much overhead and profit their company needed to add to their total project bid before submitting it and going head-to-head with the other teams, and the objective was to have the lowest comprehensive bid selection. After finishing the bid simulation, students traveled across campus to the Robins & Morton Construction Field Lab and worked with field lab manager Jonathan Tucker to build a picnic table that was donated to local non-profit Esperanza House.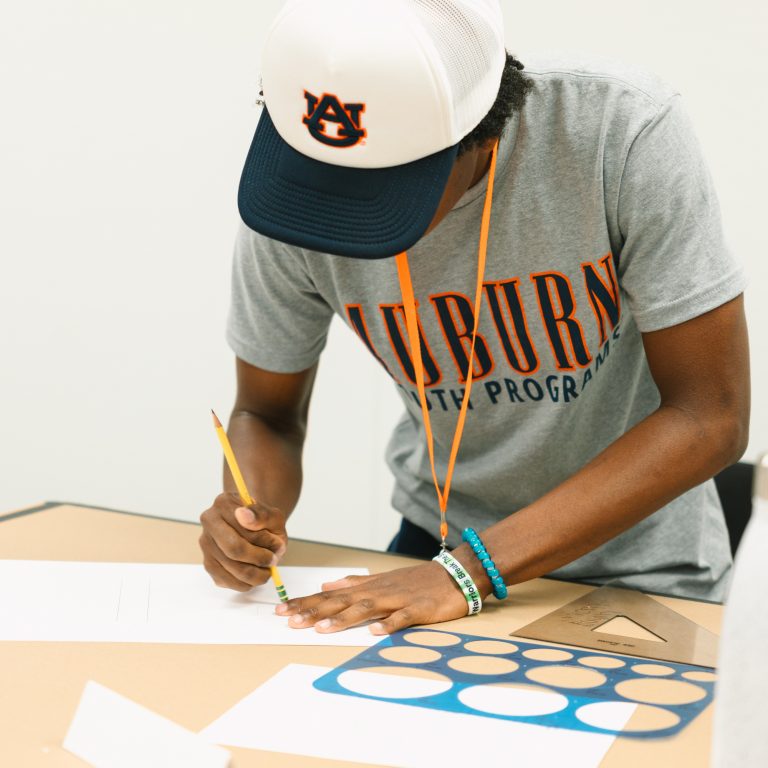 Friday's activities taught campers about majors in the School of Industrial and Graphic Design (SIGD). Graphic Design faculty member Lee Clark asked students to design an initials logotype with just two letters. The campers designed 20 versions in thumbnail form and narrowed it down to two for final execution in ink on Bristol board. Industrial Design faculty member Ben Bush assigned the students to work in small groups with designers from Aruliden, a brand strategy and product design firm in New York City that is a subsidiary of Material, the global design and tech firm that sponsored SIGD's day at camp. Students and designers worked together to create products based on different aesthetics of brands and functions.
On Saturday, the campers' busy week came to an end with an exhibition of student work. "We had a phenomenal week at camp," stated Chastain. "Our faculty truly enjoyed introducing their disciplines to the campers. I am so proud of the campers for their enthusiasm and excitement. The work the students produced was so impressive, and we now know there are some talented young designers in this generation!"