BSCI Students Return to In-Person Competition Teams
After a year and a half of competitions held remotely due to COVID-19, McWhorter School of Building Science students were able to return to in-person competitions this year, traveling regionally, nationally and even internationally.
The McWhorter School of Building Science's competition season, with entry fees and travel expenses, is made possible by the generous support of industry partners who sponsor the teams. Each year, as students prepare for the competition season ahead, these partners come to campus to observe practice presentations and give the teams feedback on how to improve.
In the spring, sponsors are invited back to campus for a celebratory BBQ luncheon on the Gorrie lawn with all of the team members and their faculty coaches.
Here's a round-up of BSCI teams' 2021–2022 competition season experiences.
---
ASC Region 3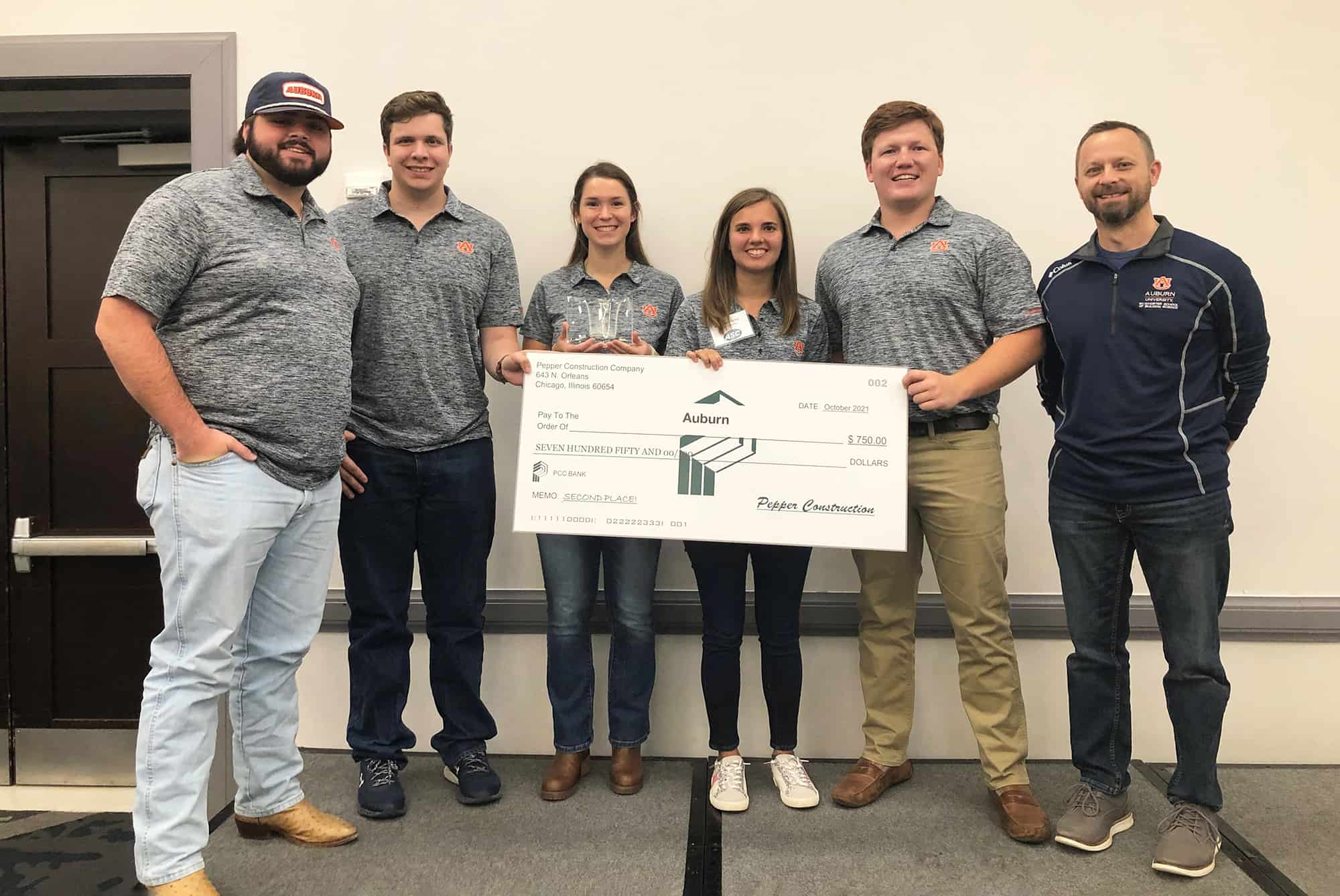 In mid-October, Associate Professor Dr. Tom Leathem took a team of students to Chicago to compete in Associated Schools of Construction (ASC) Region 3. They competed in the Preconstruction division and placed second, also earning the award for best presentation. Team member Ashleigh Harris said that while the day was stressful, the team was pleased with the outcome. "We were competing in a region we were not familiar with, with construction companies and other schools we did not know." Harris also noted that the team was lucky to have Chicago native Leathem along as advisor. "He made sure we had time to enjoy Chicago's unique culture while we were there. We ate some Chicago style deep dish pizza, walked to Navy Pier and took an architectural boat tour on the Chicago River."
ASC Region 2
In late October, several teams entered ASC Region 2's competition in a hybrid format. This competition began with a virtual program kick off and workday on campus and ended with all teams traveling to Atlanta for in-person student presentations and awards. Faculty members Richard Burt, Salman Azhar, Wes Collins, Mike Hosey, Darren Olsen, Eric Wetzel and Drew Yantis, along with BSCI staff member David Royer, led several teams who placed third in the Commercial Division, second in Graduate Risk and Financial Management and third in the Heavy Civil Division. Yantis, a current faculty member and former industry professional, has participated in competitions before as a sponsor and judge, but this was his first time coaching a team. "I was extremely impressed by our students' dedication and commitment to prepare and deliver excellent proposals and presentations," he stated. "The students' positive energy and enthusiasm will serve them extremely well in both internships and full-time employment."

ASC Region 8
In early November, students were able to return to international competition. Faculty members Paul Holley and Alan Bugg took two teams to the campus of Birmingham City University in the United Kingdom to compete in ASC's Region 8 competition. Holley's team won first place in international CM/QS (estimating, scheduling and management) and Bugg's students placed second in international design/build. The teams arrived on Monday, November 8, had a workday on Wednesday, and then completed the competition event on Thursday and Friday.
Students and faculty did some sightseeing in London on Tuesday after their arrival, including visits to Buckingham Palace and St. Paul's Cathedral. "This was a great experience for our students in a number of ways," said Holley. "Aside from the obvious thrill of finishing in first and second place, it represented a return to traveling abroad and immersion into an international culture. Our students also made friends with students from competing European teams and were flattered to be ambassadors of Building Science and Auburn University."

ASC Region 6/7
In February, students returned to the first in-person Virtual Design in Construction (VDC) competition as ASC Regions 6 and 7 held a combined event in Reno, Nevada. Faculty members Jeff Kim, Salman Azhar, Mark Tatum and Allen Conradi took several teams to compete. With a workday on Thursday, presentations on Friday and awards on Saturday, the students enjoyed the in-person event's opening banquet, a career fair with over 100 companies represented and a post-competition celebration night at the Nugget Casino.
Auburn competed in the VDC competition against 10 other schools, and while they did not place, the students enjoyed the experience and the competition. All the students are eager to return in 2023 for the next competition.
ASC Region 5
ASC's Region 5 competition in Dallas, Texas, was held in late February. This was also a hybrid competition, with Assistant Professor Alan Bugg's team working on Auburn's campus on a Saturday, traveling to Dallas that Sunday and being in-person for presentations and awards on Monday. The team was originally to be composed of three students from Auburn and three students from Birmingham City University in the United Kingdom. However, the team found out the week before that the BCU students were unable to attend and had to be replaced by three more Auburn students. The team won first place in the graduate level Design-Build category, an impressive feat considering it was composed of just one graduate student and five undergrads. Additionally, senior Macy Walker won Best Presenter for the entire competition.
Associated Builders and Contractors
In mid-March, the Associated Builders and Contractors (ABC) held a competition in San Antonio, Texas. Assistant Professor April Simons led a team of students who began virtually with pre-competition work on campus and a video chat with judges. The team's preliminary task was to put together a proposal for a five-story office building in Austin, Texas, and submit it to the judges prior to traveling to San Antonio. The proposal included a budget, schedule, project management plan, site utilization plan and a safety plan as well as background information on the fictitious company the team has established for the project.
CIOB Global Student Challenge
Run by the Chartered Institute of Building (CIOB), the eighth annual Global Student Challenge began in March. Senior Lecturer Hunter McGonagill led four teams of four students in this virtual competition, including 13 building construction juniors, two pre-building science students and one returning senior who has previously competed in the Global Student Challenge. Team members played an online game which simulates managing a construction company, and after six weeks the top teams competed in the final round in April.
Once they arrived in San Antonio, the team faced a series of changes, announced at a rate of one per hour, which had to be addressed in a day-long work session, challenging the students to think fast. "There are a couple of really great things about the ABC competition," said Professor and building science Program Chair Mark Taylor. "It is a real-life scenario of a commercial construction project, and it is also great training for BSCI 4990, our senior thesis class. The ABC competition is, in essence, a mini-thesis."
---
Thank you again to our sponsors of our 2021-2022 competition team season!