2023 Continuing Education
Meet the Speakers
Jake Elbrecht is a Visiting Assistant Research Professor of Building Construction in the Auburn University McWhorter School of Building Science. His background includes mass timber design-build experience at Auburn University's Rural Studio, developing a parametric tool to size mass timber elements during a Research Fellowship with EskewDumezRipple, and performing life cycle and cost analyses on conceptual steel-timber hybrid buildings with the Council on Tall Buildings and Urban Habitat.
Elbrecht graduated from Auburn with a Bachelor of Architecture and a Master of Science in Architecture with an emphasis on Public Interest Design. As a student, Elbrecht spent five semesters at Rural Studio, including his undergraduate thesis year and his graduate studies. While at Rural Studio, Elbrecht worked with faculty members, external partners and other students on the Breathing Wall Mass Timber Research Project, studying the engineering theory that conduction losses through a building's envelope can be greatly reduced or eliminated through intentional heat recovery efforts in the structure of the wall. After graduating with his master's, Elbrecht held a 12-month research fellowship with New Orleans design firm EskewDumezRipple. He has spent the last year and a half as a Research Associate at the Council on Tall Buildings and Urban Habitat.
---
Mike Barcik is a Technical Principal at Southface and has been with the organization since 1995. With B.S. and M.S. degrees in mechanical engineering from Georgia Tech, Mike is the author of numerous technical resources and has developed and led thousands of trainings for RESNET, BPI, LEED, DOE, EPA and other programs. He's active in energy code development and often leads workshops on the latest code changes.
Since 1999, Mike has trained over 1,500 individuals in RESNET's Home Energy Rating System (HERS) program, and in 2010 he helped create the Duct and Envelope Tightness (DET) Verifier program to certify over a thousand individuals for blower door and duct leakage testing, as required by the 2009 and later energy codes. Mike served as LEED Faculty for BD+C, EB O&M and Homes, as well as helped develop and teach the EarthCraft family of sustainable programs.
Mike co-authored Decatur Georgia's High Performance Building Ordinance which requires third-party certification for new and substantially renovated single-family, multi-family and commercial projects. During the second week of January, he loves leading MLK Volunteers to weatherize homes for low-income seniors. Mike lives with his much-smarter architect wife and two daughters in a 1920 Craftsman bungalow that they are lovingly restoring and making more efficient. Thanks to efficiency improvements and a 4kW photovoltaic array, they've offset 95% of their electricity consumption and use only a third of the gas originally consumed.
---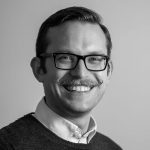 Sam Culpepper is a Program Manager for Southface. He provides design review and consultation to outside clients and projects in the Earthcraft Multifamily program, performs energy modeling for programs across Southface and is working on his Home Energy Rating System (HERS) rater certification. Sam is a registered architect and has a background in commercial, multifamily and hospitality architecture, and an undergrad degree from Georgia Tech. Outside of the office, he can often be found pedaling his two children around town in a cargo bike and tinkering away on various home improvement projects.
---
Don Simon joined Huber Engineered Woods in October 2014 as the Education and Training Manager. In that role, he manages the internal training program for new hires joining the company and provides continuing education for existing sales associates. He also oversees developing continuing education programs for design professionals, contractors, code officials, and installers. Recently, he's implemented a mobile learning platform at Huber and started using video as a delivery method for technical training.
---
Lesley Braxton is breaking the mold of what an architect is. As a Principal at Trahan Architects, she and her team are pioneering design that profoundly enriches the human experience. She rejects the notion of a hard line separating inside and out. Instead, her attention is given to creating spaces with degrees of outsidedness that focused on the fundamental relationship between the natural environment and the common good. Her work is a process of continual listening, research, and observation to serve as a humanitarian first, architect second. Lesley graduated from Auburn University in 2004 with degrees in Architecture and Interior Architecture.
---
April deSimone is a transdisciplinary practitioner working at the intersection of architecture, planning, and systems thinking. Her work is inspired by her experiences growing up in a Bronx, New York neighborhood, steeped in the collateral consequences of intentionally designed systems of inequity. In partnership with diverse stakeholders, she seeks to cultivate reframed opportunities within spatial practice to advance equitable, humane, and just frameworks and projects shaping the conditions of our society.
She brings over 20 years of experience investigating how democratic values are represented through the environments and systems we plan and design. Through this work she activates a deeper understanding how of socio-spatial inequities are perpetuated by legacies of dehumanization which continue to systemically threaten the full potential of democracy. In practice, she connects her spatial investigations to project demonstrating the equitable, humane, and just capacities of architecture and design mediums.
In 2015, April co-founded designing the WE, where she co-curated Undesign the Redline, a nationally recognized exhibition exploring the historical and contemporary impacts of unjust policies and practices like residential racial ordinances, Redlining, and Urban Renewal. She recently transitioned from her role as a Principal at a nationally recognized architecture firm to co-launch The Practice of Democracy in the Fall of 2023. Her newest immersive experience, Of The People, The Truths WE Hold, launched in the summer of 2022 on the High Line in New York City and is traveling nationally to different communities.
April continues to be an invited lecturer, speaker, and facilitator at numerous institutions. She sits on progressive boards, including the American Sustainable Business Network, and was a Forefront Fellow with the Urban Design Forum. She works closely on a local and national level with stakeholders from diverse sectors on issues on issues of race, equity, and democracy. Recently, she was recognized by Enterprise Community Partners as one of their Impactful 40 in 2022.
A Dean Merit Scholar recipient, she received her Master of Science in Design and Urban Ecologies from Parsons School of Design. Currently, she is pursuing her Master's in Architecture
---
Gwendolyn Cohen is an Assistant Professor of Landscape Architecture in the School of Architecture, Planning and Landscape Architecture, where she teaches landscape architecture design studios, courses in the Construction Sequence and elective seminars. She graduated from the University of Virginia with a Master in Landscape Architecture and holds a Bachelor of Fine Arts from the Rhode Island School of Design. Gwen has practiced landscape architecture as an associate at Studio Outside Landscape Architecture in Dallas, Texas and as a landscape designer at Spackman, Mossop, Michaels in New Orleans, Louisiana. Gwen led master planning projects for the Bernheim Arboretum and Research Forest, Fort Worth Botanic Garden, and Marsh Botanical Garden. Her built work ranges in scale and includes the design of twenty-three Dallas Public School campuses that now serve as public parks, a corporate campus in Columbus, Ohio, and innovative residential developments such as PS1200 in Fort Worth (in collaboration with D.I.R.T. Studio) and Saint Thomas / Ninth in New Orleans. While practicing, she co-taught studios at the University of Texas in Arlington and the University of Texas in Austin. She served as an artist-in-residence at the University of Oregon's Overlook Field School. In collaboration with Isaac Cohen, she has researched the Blackland Prairie of Texas—its expansive vertisol soils, its ecologies, its cycles of disturbance, and people's relationship to it. The Black Belt of Alabama is also defined by its vertisol soils, and shares similar cultural histories. These two ecoregions share a geologic history and reveal the connection between the ground and lived experiences of place.
---
Isaac Cohen is an Assistant Professor of Landscape Architecture in the School of Architecture, Planning and Landscape Architecture. He has almost two decades of experience working on all aspects of park and urban public space issues. He has spent this time working with communities around the country on the design of varied public spaces, advocacy and fundraising to build parks, and on engagement and research into critical issues impacting the use of public space. Most recently he was an Associate at Studio Outside Landscape Architecture in Dallas, TX where he brought a wealth of knowledge of Dallas neighborhoods, history, and landscapes to projects ranging from built works to city scale planning and equitable development projects.
He is inspired by building relationships with the communities he works with and finding ways to represent and elevate their history, experiences, and connections to the land in engaging ways. Prior to Studio Outside he worked on a range of projects including Activating Vacancy, an arts and placemaking initiative in the Tenth Street Historic District; Little Free Libraries/Libros Libres, a citywide literacy and placemaking project, and Race and the Control of Public Parks, an analysis of the relationship between Dallas' public park system and residential racial segregation and movement within the city. His work has been awarded, published, and exhibited nationally and internationally.
---
Speaker Lineup Archive