Spotlight: Alumnus J.T. Carter
Four years ago, J.T. Carter was an Auburn student interviewing with industry recruiters in the McWhorter School of Building Science (BSCI). These days, he's back in the lobby of the Miller Gorrie Center on the other side of the table as the lead recruiter at Auburn for Linbeck Construction. Born and raised in Auburn, he is enjoying the opportunity to return home and meet with current students at his alma mater.
Carter joined Linbeck Construction as a project engineer in the summer of 2018. "I had interned with Linbeck between my sophomore and junior year and I fell in love with the company," he said. "I felt like I was part of the team and they made me feel like I was home." After getting project engineer experience on the construction of an opera hall and a pediatric intensive care unit, he was recruited to work as a superintendent in Linbeck's Proton Therapy Division, which specializes in building proton therapy centers for cancer treatment. At the forefront of cancer research, proton therapy is a radiation treatment that requires highly specialized facilities with particle accelerators located within massive concrete bunkers. While proton therapy centers are still new to the medical industry, Linbeck's expertise in this area means the company usually gets these jobs when they do come up.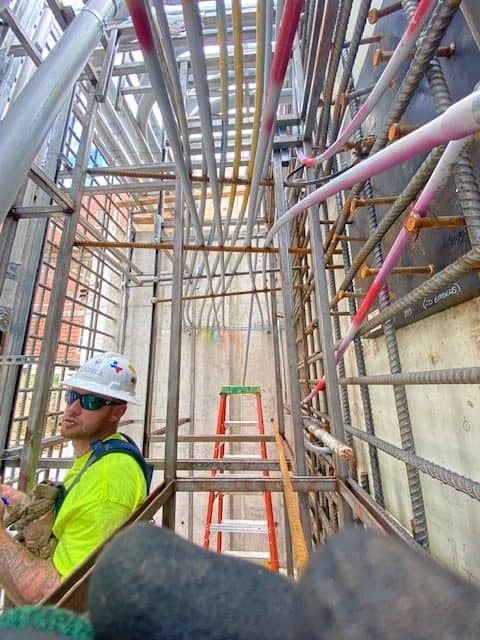 Carter feels that his Auburn education prepared him well for his current position, with Professor Scott Kramer's documents class perhaps being the most important. "Being able to not just read drawings but to interpret them and know them like the back of my hand was a really big deal," Carter said. "A lot of subcontractors rely on me for information and come to me with questions, so this helps me in my career every day." He also noted that BSCI taught him problem solving, one of the most important skills he uses on a daily basis.
Carter is currently working on a nine-story cancer research hospital at Ohio State University, but by the end of this year he will head back to Texas to get his next assignment in between visits to Auburn. He first returned to campus with his supervisor, 2009 Auburn grad Trae Compton, who brought him along on recruitment visits. Compton eventually handed the reins over to Carter, who is now happy to be the company's lead Auburn recruiter.
Having participated in BSCI's Industry Advisory Board, Carter thinks the school's curriculum is up to date. As a recent graduate and a recruiter, he is in a unique position to be able to assess the quality of a BSCI education. "I think the faculty are doing a great job," he stated. "The interns we've hired from Auburn are top notch. I can't think of anything we're doing in the industry that the students aren't already doing in school now."