Tangible Ideals—Showcase: The Work of Creative Scholarship 2018 Exhibition
The exhibition Showcase: the Work of Creative Scholarship 2018 was displayed from September 28 to October 14 at Auburn University's Jule Collins Smith Museum of Fine Arts. The exhibition featured selected works by Auburn faculty and students from 22 departments and programs across campus. The diverse material included creative work in the form of photographs, painting, drawings, product design, textiles, sculpture, multimedia, and other mediums. The objective of the exhibition was to showcase scholarship and research that are developed through multiple processes of creative work.
Many works by students and faculty of the College of Architecture, Design and Construction were included in the exhibition. Three CADC students received Showcase Awards for their work, and XX CADC students received Honorary Awards (see below).
The Human Scale, 2017 – Ayomi Akinlawon, Senior, Architecture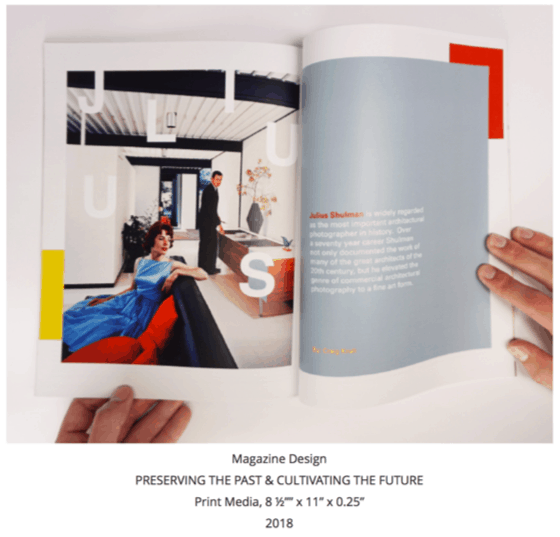 Retroform, 2018 – Anna Rogers, Senior, Graphic Design (left)
A Pale Blue Dot, 2017 – Grace Harkin, Senior, Graphic Design (right)
Honorary award recipients from the College include Foster Denney (Environmental Design Graduate), Deon Nduna (Junior, Graphic Design), Savannah Witt (Junior, Industrial Design), and Radhika Shenoy (Landscape Architecture Graduate).
Work by several CADC faculty members was featured, including Kelly Bryant (Graphic Design), Ben Bush (Industrial Design), Rusty Lay (Industrial Design), Shea Tillman (Industrial Design), Shu-Wen Tzeng (Industrial Design), Matthew Hall (Architecture), Zdenko Krtić (Architecture), and Carlton Nell (Graphic Design Chair).
Dr. Karen Rogers, Associate Dean for Graduate Studies and Research in the CADC, writes, "Showcase strives to show that creative work is an essential, not incidental, aspect of human endeavor. Although the work of creative scholarship takes many forms, the shared, driving force behind that work is, perhaps, the conviction that the challenging queries and engaging solutions to be found in the products of creative work can—and should—make significant contributions to a dignified and meaningful quality of life." In the CADC, design students and faculty are faced with challenges both abstract and concrete. Final projects are the result of rigorous, iterative problem-solving processes which are focused on reaching solutions that are optimal both functionally and formally. The scope of creative work in the CADC is wide and the scale is varied; projects developed by faculty and students can encompasses investigations that range from urban design to graphic design, from the program for an affordable, dignified home to the design of a user-friendly prosthetic limb. Showcase demonstrates the impressive scope and the outstanding quality of the work in a public exhibition.