Meet & Greets Provide Opportunities for Engagement
Hosted by the McWhorter School of Building Science Office of Career Services, Meet & Greets are an opportunity for students to build relationships with potential employers in a casual setting.
Career Services schedules times on weekday mornings in both the fall and spring semesters for companies to visit with students in the lobby of the Miller Gorrie Center. Students are encouraged to stop by in between classes to speak with industry representatives and ask about employment opportunities.
"Every company who participates in our career fair has the opportunity to schedule a Meet & Greet," said Career Services Specialist Angie White. "We want to give our industry partners multiple opportunities to have face-to-face conversations with our students."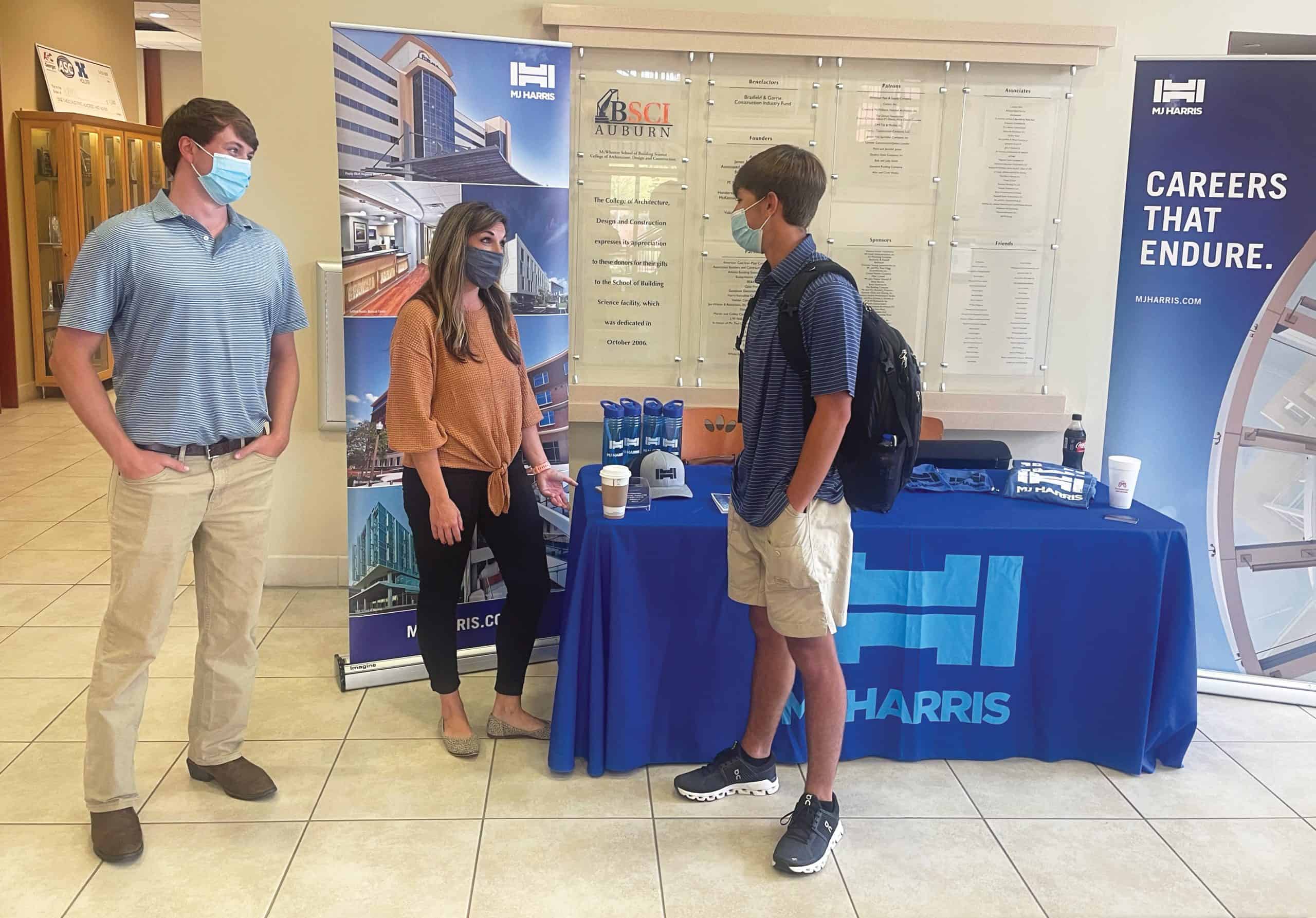 Meet & Greets are a good way for students to explore possibilities within the construction management industry by asking questions and learning about each company's areas of focus. "I run past the Meet & Greets in the lobby all the time on my way to class," said pre-building science major Jacob Carson. "It's a great opportunity to stop and ask questions and to become familiar with companies in the industry, especially when you are looking for internships and jobs." Carson appreciates that some of the companies provide breakfast or a quick snack for busy students to grab as they say hello.
BSCI senior Andrew Martin said he has been attending Meet & Greets for two years, and while he found his internship at the career fair, he still finds plenty of value in the Gorrie lobby visits. "I'm interning with a construction company this summer so I was able to stop by and just catch up with them. I've met a lot of companies at Meet & Greets that I haven't seen in any other places."
While Meet & Greets are clearly beneficial for students, they're also a valuable use of time for BSCI's industry partners. "It's more personal than the career fair," explained Ryan Stanford, HR Manager & Corporate EEO Officer at Caddell Construction. "We can invite students we've already engaged with to come have that second conversation. Every company's out there looking for talent and skills, but we're looking for character, and we're looking to get to know people." Stanford said Caddell representatives are able to stop into classes and discuss the company's history as well as reconnect with faculty.
Sarah Carrico, Project Manager for Gray Construction and a 2020 BSCI graduate, said that the informal atmosphere makes it easy to chat with students. "Not a lot of students know about Gray, but we're a design-build construction company headquartered in Kentucky, and we have a huge presence in the Southeast with a major office rooted in downtown Birmingham," she explained. "Meet & Greets are a great way to get our name out there to students coming out of a really good program."
How should students prepare for a Meet & Greet? Stanford recommends they use the time to study prospective employers by getting to know each company's team members and connecting with them on LinkedIn. Students can sign up to receive e-mails from companies and watch the Meet & Greet schedule for opportunities to check in. Résumés aren't necessary because this is a chance to encounter a familiar face and have a friendly conversation. "Nothing replaces being in person, especially after the last two years," Stanford said.
Thank you to our 2021–2022 Meet & Greet participants