Jessica Wolfe Bowlin '13 Teaches the Next Generation of Construction Students
In addition to being a beloved teacher and a celebrated educator, Bowlin is an advocate for construction education.
"We are so proud she is a BSCI grad," said McWhorter School of Building Science head Richard Burt. "Her reputation, accomplishments and knowledge of the academic opportunities to study construction in college make her the perfect ambassador to guide high school students toward a career in the construction industry."
Originally from Hazel Green, a small town in north Alabama, Bowlin came to Auburn to play on the university's soccer team. She graduated in 2013 and then went to work at Turner Construction in Decatur, Alabama. An Assistant Project Manager in the company's Self-Perform division, she worked closely with welders, pipefitters, millwrights, iron workers, carpenters and masons. In 2017, she and her husband Wes, a 2012 BSCI grad, moved back to Auburn to be near family. Shortly thereafter, she received a phone call about establishing a building construction program at Auburn High School (AHS). Little did she know that Burt and Associate Dean Ben Farrow had met with Laura Bailey, the high school's former career and technical education director, and recommended Bowlin as the right person to start a secondary education building science program. Although she had never taught before, Bowlin suspected her passion for learning and her experience in the industry would help her get started. "My professional experience showed me that programs such as this are exactly what the industry desperately needs," she explained. She accepted the position and is now in her fifth year of teaching at AHS.
Bowlin is driven by the desire to correct the widespread perception that success comes only from having a white collar office job. She is constantly working against inaccurate portrayals of industry professionals and how they are undervalued in America. "I believe it is my responsibility to advocate for our field of work by raising awareness of the vast opportunities available within construction," she stated. "Building construction programs within primary and secondary education are absolutely critical in resolving the negative market trends and determining the rate of progression within our industry."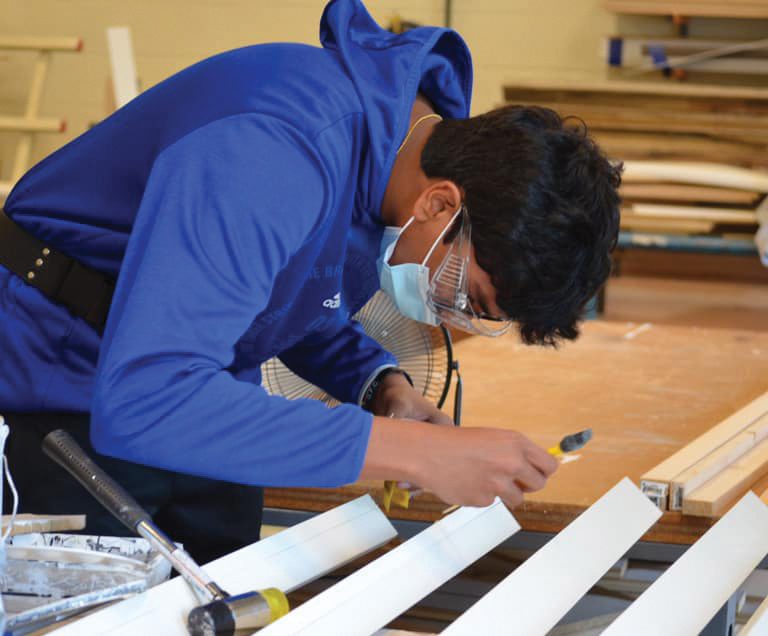 Several classes are offered in AHS' Building Construction program, and Bowlin teaches them in a way that combines classroom instruction with project-based learning throughout the stages of framing, site preparation and construction finishing. She teaches trade skills like blueprint reading, power tools, concrete, masonry and roofing as well as safety according to guidelines set by the National Center for Construction Education & Research (NCCER). As part of her classes, her students go through a series of tests to receive NCCER certification. She teaches lessons within a simulated workplace environment, reinforcing professionalism and comprehensive learning. A fan of lifelong learning herself, Bowlin encourages her students to be curious and to try new things. "Whether it's a continuing education course in my free time, a professional development workshop, a podcast or a new skill I'm trying for the first time in the shop, the process of learning new skills and gaining knowledge is when I feel most at peace," she explained.
One of her first big projects at AHS was the construction of a tiny house measuring 21 feet long by 8½ feet wide. She began researching the possibility by visiting BSCI Assistant Professor April Simons as she guided her own students through the construction of a tiny home. Bowlin was able to both observe the class and participate along with the students, which helped tremendously in crafting her proposal. Despite being in her first year of teaching, she was rewarded with the full support of the AHS administration. "I probably came across as a little crazy proposing the tiny house when we didn't have certainty that the Building Construction program would even continue the following school year," she said. "This speaks volumes about the support of our Auburn City Schools team and the Auburn community." The project ended up being incredibly successful, and the program's tiny house won first place in the 2019 Alabama Association for Career Technical Education conference's "Live Work Product" competition. The award generated a great deal of attention for the program and the tiny house was eventually sold to the highest bidder.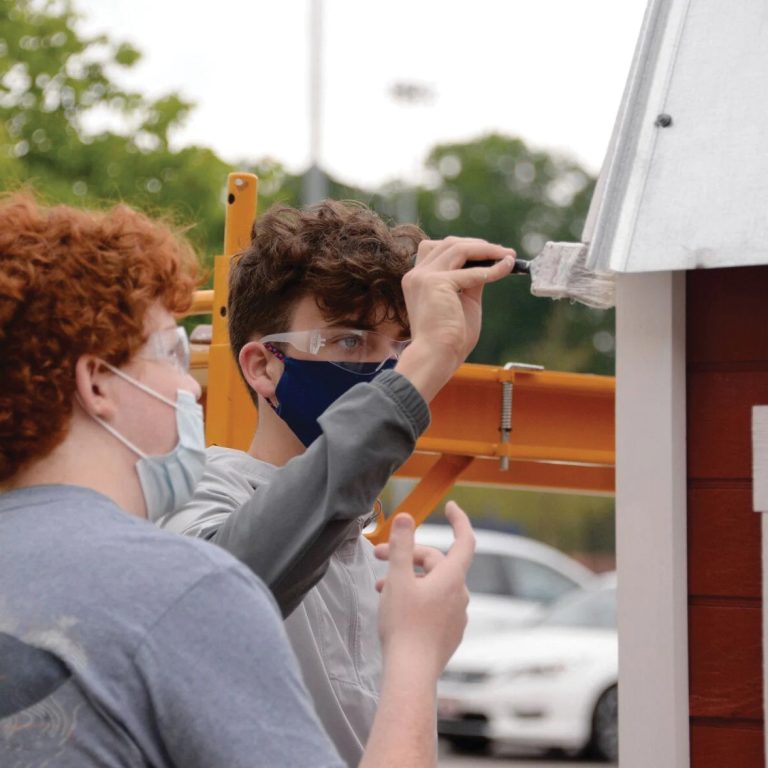 Between classes, projects and coaching competition teams, Bowlin puts in long hours working to open her students' minds to the career possibilities that await them after high school. She is motivated by research that shows a burgeoning deficit of skilled labor in the construction industry. "Projections indicate that 41% of construction professionals will retire by 2031," Bowlin said. "With the industry's increasing need for a safe, productive and sustainable workforce of craft professionals, the success of a program such as this is essential in progressing the development of our students, our communities and our industry." Aside from the tiny home, most of her classroom projects range in size from large children's playhouses to simple cornhole games. Some assignments have included building furniture and outdoor classroom benches as well as creating full sets for school theatrical productions. The students also devote time to building storage sheds for Auburn Opelika Habitat for Humanity, where Bowlin serves on the Board of Directors. Her students compete in SkillsUSA's South District competition, and this past February several students placed in divisions including Carpentry, Job Skill Demonstration and Job Interview.
Bowlin credits Auburn's faculty for helping her to become a good teacher and says it was the connections between students and professors that meant the most to her. "We were provided a sense of empowerment," she explained. "Within safe learning environments, individual ideas are not only valued but play an active role in steering the class." It was that independence that made her college career mean so much more than just grades. Her goal now is to grow a culture at AHS that allows her students to be fulfilled through meaningful schoolwork and propelled to become productive citizens. She also likes to encourage that connection between student and teacher while emphasizing the importance of service learning and the value of teamwork. She noted that both Farrow and Associate Professor Darren Olsen have offered guidance, advice and support to Bowlin and her husband through the years. "When we were students, they offered their mentorship," she said. "Following graduation, they offered their wisdom as friends. I believe the professors who teach in Building Science at Auburn are the key factor that makes the program one of the best in the country."
While Bowlin may model her teaching after Auburn's building science program, she herself is not far from being one of the best in the country. In 2019, after less than three years on the job, she was named Teacher of the Year at Auburn High School. In 2021, she was honored with a Harbor Freight Tools for Schools Prize for Teaching Excellence, winning $50,000 in funding for the AHS program. Harbor Freight Tools sponsors this annual awards program to recognize inspirational teachers preparing students for building construction and skilled trades, and Bowlin was named one of 18 winners out of 726 applicants nationwide. Her students have in their corner not only an outstanding educator and an advocate for the industry but also a lifelong learner. "It is through learning that we discover our purpose in life," she explained, "and when purpose and passion collide, it is a beautiful thing."