Building Science Students Learn Through Summer Service
Students in the McWhorter School of Building Science (BSCI) have a lot of options to continue their studies in the summer, whether it's an internship, a co-op or travel. But students in BSCI 4360 Construction Field Lab, a senior level graduation requirement, spent this past summer semester learning by doing, building a variety of structures that serve the needs of those in the community.
In the Construction Field Lab class, students work in teams of ten students and one faculty advisor to create built solutions to issues facing non-profits. Organizations are invited to explain their missions and present their proposals to the student teams who then choose one project that aligns with their interests. The students on each team complete a total of 600 hours of planning and building, and at the end of the semester they present their work and share the experiences and lessons they learned from serving others.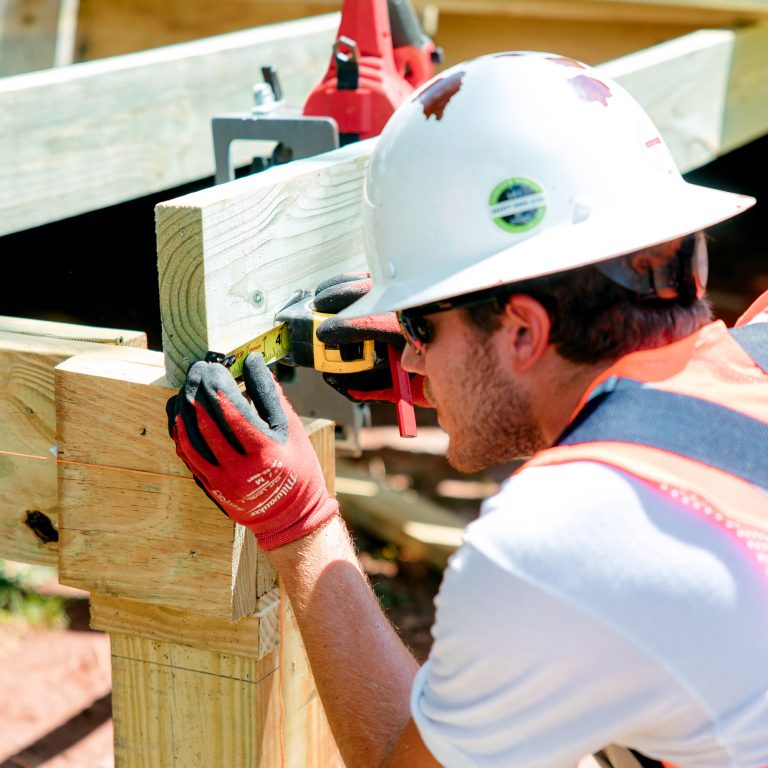 This past summer, Jonathan Tucker, Senior Lecturer and Facility Manager of Auburn's Robins & Morton Construction Field Lab, taught two sections of the class. The students in Tucker's first section worked at the Tallapoosa Girls Ranch, a non-profit family-style home for at-risk youth in Camp Hill, Alabama. The summer semester students worked to complete construction of a laundry room built by BSCI service learning students the previous semester. They finished the laundry room building by installing vinyl siding and a new exterior door and building rails on and around the porch stairs. They also demolished a porch on the back of one of the residential cottages at the ranch and built a new 20' x 35' deck.
---
---
The students in Tucker's other section tackled the challenge of building two different wheelchair ramps in Opelika. They demolished an old ramp and built a new 48' ramp in its place to allow better accessibility for residents at the Exodus Ranch, a family home that helps local children in difficult situations. They also built a new wheelchair ramp at the home of a client of The Way 2 Serve, a non-profit organization that organizes volunteers for home repair projects.
Tucker says that service learning is an important part of preparing BSCI students for industry, and he makes sure the students know that the focus of each project is on who is being helped. "These projects are not about unique high-end finishes at all," he explained. "There is nothing fancy or extravagant about the materials used on the service learning projects. They are about using a team of BSCI students to meet a need in the community."
The history of BSCI's hands-on learning and service projects dates back over 25 years. The recent addition of the Alison & Jim Gorrie Service Learning Gift and the establishment of the BSCI Robins & Morton Field Lab have allowed Building Science to continue its expansion of service learning classes and projects. While all students are required to participate in local projects through the service learning class, there are plenty of other faculty-led experiences that allow students to travel regionally and internationally to complete projects. Associated General Contractors of America (AGC) has repeatedly honored Auburn's commitment to service with the National AGC in the Community Award in 2022, a Special Recognition Community Award in 2020 and the Community Development Award in 2019.
"The service-learning course allowed us to apply practical, hands-on skills as well as softer skills like communication and coordination," stated David Knowles, a student who took Tucker's class this summer. "Overall, the most valuable experience the course provided was the opportunity to work hard and directly impact the lives of people living in our community."