Auburn MRED Student Awarded National Diversity Scholarship
NAIOP Names Four Diversity Student Scholarship Recipients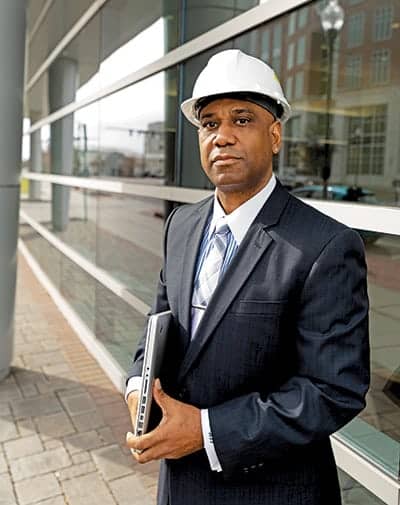 NAIOP, the Commercial Real Estate Development Association, has selected Auburn University Master of Real Estate Development (MRED) student Glenn Gray Jr. a recipient of its annual diversity student scholarship.
The scholarship program supports students who are pursuing a graduate degree in commercial real estate and is a key component of the association's pledge to advance diversity in the industry.
Gray is a member of NAIOP Alabama and works as a commercial real estate broker for Coldwell Banker Commercial Sun Coast Partners. In this role, he delivers sales and lease contracts; advises clients on their commercial real estate leasing and investment needs; provides integrated real estate services to landlords, tenants, and investors through every stage of real estate transactions; conducts market, site and financial analyses to facilitate client decision making; and builds accurate cash flow valuation models critical for successful proposal drafting and negotiation.
He is also a principal with Moyo lmara Investment Group. His responsibilities include managing a real estate development and investment portfolio focusing on urban redevelopment; directing the entire development process, from financial modeling and site acquisition through conceptual design, funding, construction and asset disposition; and building relationships with a variety of stakeholders and interests including city officials, city councilors and community residents. He has developed $2 million in single-family housing stock, overseeing joint venture, equity and debt solicitation.
"Glenn has proven through his professional leadership, knowledge, and experience that he is and will be making substantial contributions to the real estate industry," said Michael Robinson, director of Auburn's Master of Real Estate Development program. "He personifies the aim of our MRED program, which gives talented business professionals from across the country the acumen to excel in real estate development and opens the door to leadership opportunities in the industry."
NAIOP on May 11 awarded four $5,000 graduate student scholarships to individuals from demographics that are traditionally underrepresented in commercial real estate and whose universities are part of the NAIOP University Membership program.
In addition to the scholarship, each recipient will have the opportunity to make new professional connections and sharpen his or her commercial real estate acumen with complimentary registration and a $1,000 travel stipend to attend NAIOP's CRE Converge 2020, October 6-8, in Las Vegas.
"By investing in the next generation of industry leaders and advancing diversity in commercial real estate, NAIOP is working to broaden and enrich the talent pool for our industry," said Thomas J. Bisacquino, NAIOP president and CEO.
To learn more about NAIOP's strategic initiatives to advance diversity, visit naiop.org/diversity.
About the Auburn Master of Real Estate Development Program
Auburn University's Master of Real Estate Development program is a collaboration between the College of Architecture, Design, and Construction and the Harbert College of Business. It provides experienced professionals the theoretical and practical knowledge to develop real estate projects emphasizing best practices in economic resilience and design excellence. Visit mredauburn.com.