Alumni Spotlight: Avery Dove '18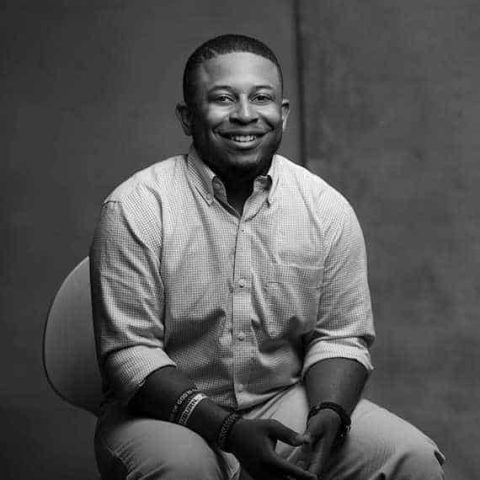 Avery Dove is a fan of all things Auburn, but his favorites might be the Auburn football team, Aubie the Tiger and the Graphic Design program in the School of Industrial and Graphic Design (SIGD). A 2018 graduate, Dove has recently worked with Stamp, a custom screen printing and retail business in downtown Auburn, to produce and sell a line of Auburn t-shirts. When he's not designing t-shirts or cheering on the Tigers, Dove works full time as a motion graphic designer at Copperwing in Montgomery.
Dove's desire to create Auburn t-shirt designs goes all the way back to 2014 when he was a freshman in SIGD's Graphic Design program (GDES). "As a fan of cartoons, animation and anything visually appealing, I've always had a love for graphic t-shirts," he explained. He reached out to local retailers but didn't find a lot of interest. As he continued through his academic studies, he realized that his skills and confidence were growing, and in 2019 he began making plans for production with Auburn alum and retailer Eric Stamp. The COVID-19 pandemic derailed Dove's plans, but in 2022, just as the men's basketball team was rising in the national rankings, he saw his dreams and designs come to life. His first design for Stamp, which features Aubie dunking a basketball, went live the same day the team clinched the SEC Championship. "I was there to see my shirts in person while Toomer's Corner was flooded with fans rolling the trees," he recalled. "It was truly a magical moment."
One of Dove's newest t-shirt designs features Auburn basketball player Dylan Cardwell. Cardwell approached Stamp about several t-shirt designs he had in mind and Stamp referred him to Dove. "I've always wanted to work with an Auburn athlete to make custom apparel and I was ecstatic when Name, Image and Likeness (NIL) was introduced," Dove stated. "NIL made it much easier to work with an athlete without potentially leading to any NCAA copyright violations." Cardwell and Dove's current design features a shirtless Cardwell, who goes by the nickname "Jumbotron Man," in front of and on the Jordan-Hare Stadium video board. Dove attended several Auburn football games this past fall and was ecstatic to see students on the big screen wearing the Jumbotron Man t-shirt. "To see so many people wearing my design was a dream come true," he stated. "I saw my Jumbotron design actually on the Jumbotron screen in front of thousands of fans!" Cardwell and Dove's second collaboration was just released. Titled "Jungle Kings," it features Cardwell and Aubie posing in a parody of a famous NBA moment featuring Miami Heat teammates LeBron James and Dwyane Wade.
While Dove is extremely passionate about creating Auburn t-shirts, most of his days are spent designing motion graphics at design firm Copperwing in Montgomery, Alabama. Founded by Auburn GDES grad Angela Stiff, Copperwing creates branded identities, graphics, websites, marketing and much more across digital and physical media. Dove works as a Motion Designer, animating graphics with Adobe After Effects and creating graphics for digital ads, social media, electronic billboards and websites. He utilizes his skills in illustration and storytelling, sometimes quite literally. His favorite projects have been those in which he develops characters that connect with children, including the creation of a coloring book for the Alabama Department of Agriculture and Industries and a school mascot for Alabama Christian Academy. "Creating characters that kids love and connect with is what I love to do most, and Copperwing has provided me with that opportunity on multiple occasions," he said. "Copperwing is such a special place."
Dove says his education in GDES has truly prepared him for the variety of work he does on a daily basis. He appreciates that GDES faculty members encourage students to be well-rounded and to gain experience in a variety of areas, and he says that retired Professor John Morgan stands out as one of his favorites. Dove started attending Auburn with the intention of studying computer science, but it was Professor Morgan's tour of the GDES program that made him change his major. "His personality, thorough tour and his explanation of the program are what really sealed the deal," he recalled. His favorite classes were Image I and Image II, in which students explore illustration combined with design, but the class that had the biggest impact on him was Kinetic Type Motion Design. "I took it as an elective and didn't put a whole lot of thought into how it may shape my future, but that was a pivotal class for me," he explained. "If it weren't for that class, I would not have ended up at Copperwing, as they were looking for an additional motion designer at the time. Who knows where I'd be if I had taken another class as an elective!"